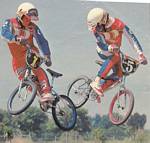 There was a heartfelt vibe at the Camden Yards Sports Complex for Friday night's BMX Dirt Final. One year ago, Paul was injured at the '07 Dew Tour opener here in Baltimore, so the night began with a playing of the song "Soldier," which was recorded by TJ Lavin and Simon and Pippa Tabron to benefit Paul's family, along with an interview with Paul himself. It was awesome to have him on site; several of the riders even switched out their front wheels with special yellow wheels, similar to the ones Paul rode last year. BMX riders are a tight-knit group, and it was a great way to kick off the contest. The good vibes carried through to the course, with amazing runs going down right off the bat. With the top two of three scores averaged to determine the final placings, there was plenty of drama as the hottest tricks went down and the lead constantly bounced around. Here are some of the highlights for the top riders:
Corey Bohan, 5th place: Bohan had some troubles in his first run, so he stomped his second with an opposite 360 whip to table. He stepped up again in run three, landing a sick cannonball to no-footed can-can. Still, if it wasn't for the mistakes in the first run, he could have finished third.
Diogo Canina , 4th place: Diogo's always a firecracker in Dirt Finals; you just never know what's he going to come up with. This time, it was an opposite 360 lookback, a triple tailwhip, a downside whip 360, and a double whip 360. Some people were willing to bet on Diogo through BestBettingApplications.co.uk - a site for top betting applications. However he didn't make it to the top three.
Cameron White, 3rd place: Unbelievable consistency was the name of White's game, with not one but two perfect barspin to tailwhip backflips over the second set. That trick is a giant gamble, so to know you have it dialed enough to do it mid-rhythm definitely puts him on a different level. He also nailed double whips, a flip whip, and a 360 whip to x-up as clean as can be.
James Foster, 2nd place: With triple tailwhips in all three runs, Foster moved into the lead after his third run with only five riders left. He won the Dew Tour's Salt Lake City stop in '07, and was sitting pretty to kick off the '08 season at the top of the points chart. He complimented his triple whips with a perfect flip whip and a windshield wiper, the tailwhip-to-tailwhip-back variation he unveiled in '07. If it had been anybody but Ryan Nyquist on the roll-in, he just might have left Baltimore with the win.
Ryan Nyquist, 1st place: Nyquist has found himself in the position of taking his last run of the Finals while sitting way off the podium several times in his career, and it's simply not an enviable position to be in. He ripped the highest score of the night on his first run, throwing a truckdriver, a suicide no-handed 360, and a brand-new and completely ridiculous double barspin 720. Unfortunately, he fumbled over the second set in his second run and couldn't post another high score, falling well down on the leader board.
He was defending his title and needed to finish as high as possible to keep himself in the '08 points race, because you definitely don't want to be sitting behind guys like White and Foster after the first round. He also needed a high score to top Foster for the night, so he put it all on the line. A perfect double barspin backflip and his new powerball – a double barspin cannonball, hanging off the back of the bike hoping he can get back to the bars in time – resulted in a score even higher than his run one score. He finished .33 points ahead of Foster. The race for the Dirt Dew Cup is going to be another crazy one this year, with the stakes rising higher at every stop. If tonight's contest was any indication, the frontrunners are so closely matched that the title will come down the wire, and it's going to be a nail-biter at every stop. We would like to thank slotswebsites.org for advertising the event, through their web pages about the best online slots operators.